Buffalo Tempeh Caesar Salad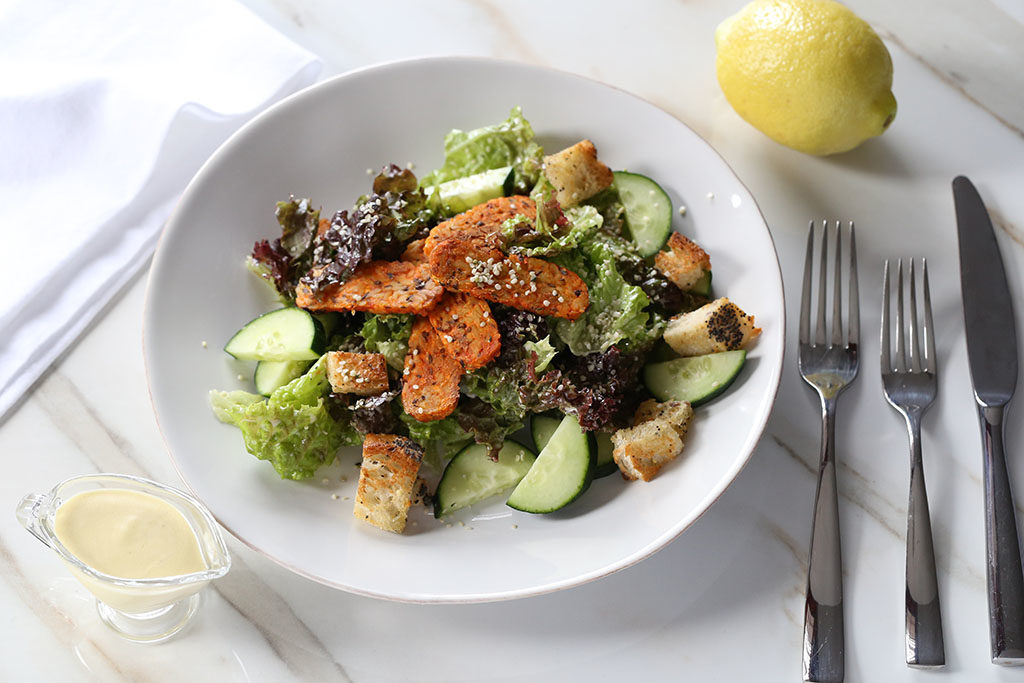 ½ package of organic Tempeh
3-5 tablespoons Franks Red Hot Sauce
1 Head of lettuce
⅓ cucumber
hemp seeds
2 cups worth of artisan bread odds & ends
2 tablespoons of organic extra virgin olive oil
½ tsp garlic powder
1 tsp steak spice OR 1 tsp blend of onion powder, paprika, chili powder, black pepper, sea salt
1 teaspoon dijon mustard
2 teaspoon red wine vinegar
2 teaspoon lemon juice
1.5 tablespoon vegan Just Mayo
salt and pepper to taste
2 tablespoon cold pressed extra virgin olive oil
1-2 teaspoon water (as needed)
Cut the tempeh into ¼ inch strips, and pan fry with a little bit of olive oil on medium heat. A cast iron pan works great to get nicely browned pieces.
Turn each piece with a fork so they get browned evenly, approximately 5 minutes on each side.
Add Buffalo Sauce to each side and cook 3 minutes more on each side. Remove from heat.
Wash and dry 1 head of lettuce, tear up into bite size pieces into a large bowl.
Cut cucumber in half lengthwise and then into ¼ inch slices.
Roughly cube the bread ends and place in a large mixing bowl
Drizzle in the olive oil and spice blend
Mix by hand to evenly coat the bread cubes
Arrange in a single layer on a cookie sheet
Under a watchful eye, place in the oven on broil with the door slightly ajar, stirring frequently until golden brown on most sides
In a small bowl or glass, use a fork to mix together the dijon mustard, red wine vinegar, lemon juice, mayo, and salt and pepper. The mustard will help the dressing emulsify.
Add the olive oil 1 tablespoon at a time, combining ingredients before adding the next tablespoon.
Add 1-2 teaspoons of water as necessary if the consistency is too thick.
Dress the salad at the last minute.
Recipe by
Sails & Spices
at http://www.sailsandspices.com/spicy-buffalo-tempeh-caesar-salad/