Greek Super Green Spanakopita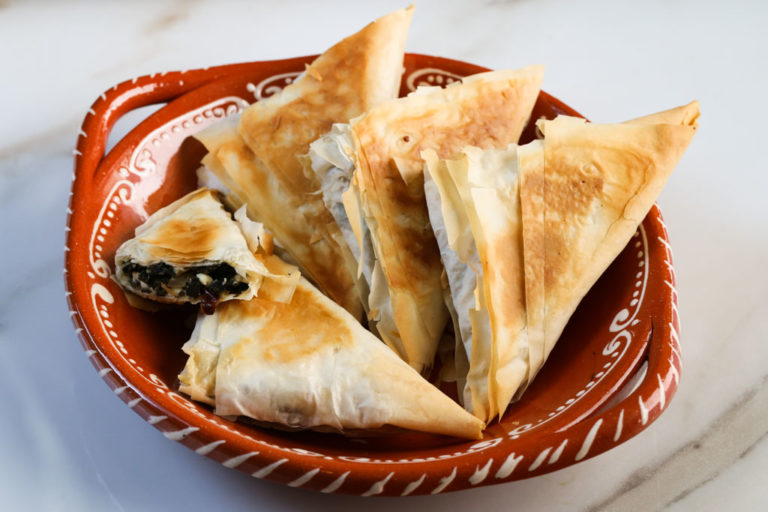 Phyllo pastry (usually found in the frozen aisle near the pie crusts)
1 onion
1 tbsp. olive oil for sautéing
2 bunches of greens, choose from swiss chard, kale, spinach, beet greens, nettles, etc.
2 eggs
1.5 cups of feta
1-2 tbsp each Flax Seeds & Hemp Seeds
Juice of half a lemon
1 tbsp. fresh dill or 1 tsp. dried
Pinch of nutmeg
Pinch each of salt, pepper
½ cup of fine extra virgin olive oil
Special equipment: Pastry Brush
Remove the Phyllo pasty from the freezer, and allow to defrost on the counter, while still in its package.
Preheat the oven to 180° C / 375° F.
Dice the onion and sauté in a pan with 1 table spoon of olive oil on medium heat until it becomes light golden and translucent. Remove and set aside.
Wash the greens well (even if you buy pre-washed greens, its always a good idea to wash them again).
Wilt the greens in the pan, string often until they are tender. Drain and set aside to cool.
Once cool, use a cheese cloth, clean dish towel, or your own two hands to squeeze as much water out as possible
Transfer to a chopping board and chop coarsely, cutting vertically and horizontally across the board to get nice small pieces
Beat two eggs in a large bowl.
Add the cooked onions, and the chopped greens to the bowl
Mix thoroughly.
Crumble in the feta, add the seeds, lemon juice, dill, nutmeg, salt and pepper, and fold through so everything is evenly mixed.
Pour ¼ cup or so of olive oil in a small glass with your pastry brush.
Unroll about 12" of your pastry, covering any unused portion with a lightly damp clean cloth. Try to work quickly to avoid the pastry drying out. This part is a great job for two!
Cut the Phyllo into strips, approx 5" (12cm) wide.
Place 3-4 single layers down on your work surface and lightly brush with olive oil.
Place a second layer of Phyllo on top of each and brush lightly with olive oil again (you may not need to dip your brush in oil each time).
Add a third layer of Phyllo... you are ready to add the filling.
Take 2 tablespoons of the greens filling and place it on the edge of the Phyllo furthest from you. Fold a corner over to create a triangle at its end (see photos)
Continue folding over its ends, keeping the triangle shape, until everything is wrapped up.
Place your Spanikopita seam side down onto a baking sheet, brush a little more olive oil on top, and a light sprinkle of paprika, for color. Repeat until your filling is all used up :)
Bake for 20-25 minutes, check as needed,
Flip them and turn the tray half way through so they cook evenly, to a golden crisp.
Reheat in the oven for a next day lunch.
If making more than you will eat in the next 24 hours flash freeze by placing the Spanakopita in a single layer on some baking paper on a plate in the freezer until frozen. Transfer to a air tight container.
When you're ready to prepare them, simply bake from frozen adding approximately 5 minutes to the cook time.
These are good served warm or cold with a cool Greek Tzatziki dipping sauce.
Recipe by
Sails & Spices
at http://www.sailsandspices.com/healthy-spanakopita-recipe/