Peach & Spelt Berry Risotto with a Pecan Chilli Crumb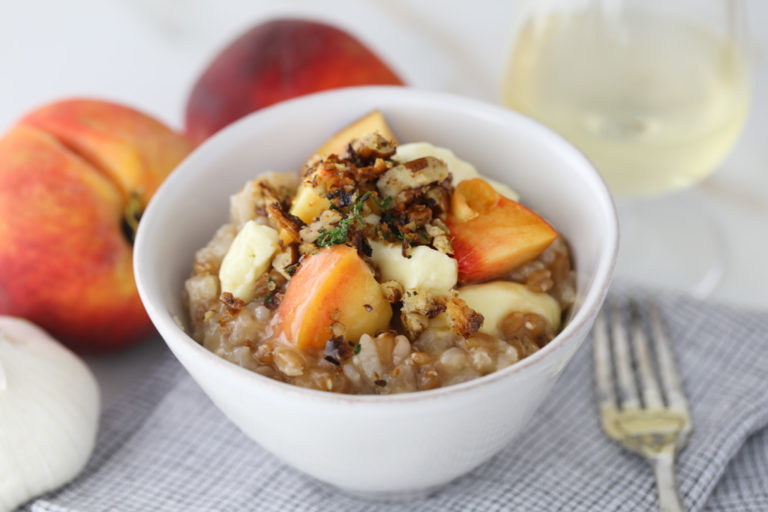 Recipe type:
Whole Meal, Risotto
¾ cups spelt berries
6 cups of low-sodium vegetable stock
1 onion
3 cloves of crushed garlic
¾ cups arborio rice
½ cup white wine
1 teaspoon of thyme
1 tablespoon olive oil
2 fresh peaches
1 cup of fresh cheese curds
2-3 small slices, approx 40 grams of bread (day old or frozen)
4 tablespoons pecans, chopped coarsely
2 tablespoons parsley, chopped finely
2 teaspoons of dried red chili flakes
Boil the spelt berries in plenty of water for 20 minutes, until semi-tender.
Warm stock in a second pot, keep on low heat.
In a large stockpot on medium heat, sauté the diced onion and garlic in olive oil, about 5 minutes
Add the arborio rice, and stir until slightly toasty, about 3-4 minutes.
Add the spelt berries, white wine, and thyme.
Stir risotto mixture over low-medium/medium heat until warmed and most liquid is absorbed. Add ⅓ cup of stock and stir until absorbed. Continue to add stock ½ cup at a time, stirring regularly, keeping the temperature at a very soft simmer. While the risotto cooks, prepare the crumb topping.
When approximately 1 cup of stock remains, check the tenderness of the risotto to your taste and continue adding stock as desired.
Slice the peaches into bite sized pieces.
Toast your bread on low until it is dried out and crisp on each side.
Chop the bread, along with the pecans and parsley, into rough crumbs.
In a pan heat up 1 tbsp olive oil and add bread crumbs, pecans and parsley, string frequently until toasted and fragrant. Set aside.
Immediately before serving, stir the peach slices and cheese curds into the risotto pot.
Dish into a bowl, and top with a generous sprinkling of crumb
Serve with a simple green side salad, and glass of Chardonnay or Sauvignon Blanc
Recipe by
Sails & Spices
at http://www.sailsandspices.com/peach-spelt-berry-risotto/