Coconut and Cherry Granola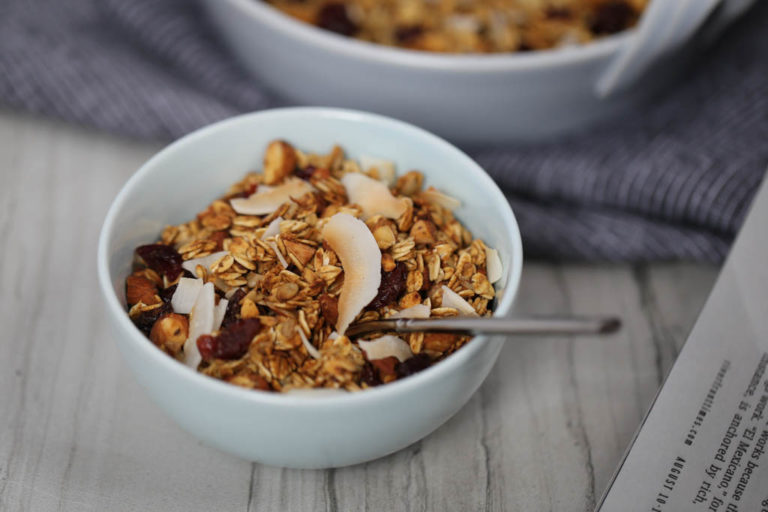 3 cups rolled oats
½ cup almonds, roughly chopped
⅓ cup sunflower seeds
2 tbs ground flaxseeds
½ cup unsweetened applesauce
2 tablespoons maple syrup (can substitute agave nectar or honey)
1 tablespoon melted coconut oil
½ tsp vanilla
½ teaspoons of cinnamon
¼ teaspoon salt
½ cup flaked coconut
½ cup dried sour cherries
Preheat the oven to 350 F / 180 C
Add the rolled oats, almonds, sunflower seeds, and flax seeds to a large bowl.
In a small bowl mix the apple sauce, maple syrup, melted coconut oil, vanilla, cinnamon and salt.
Combine the apple sauce mixture with the oats and mix until well combined.
Transfer the granola onto two baking trays and bake for 30-45 minutes, stirring and rotating the trays every 10-15 minutes.
A couple minutes before it looks done, add the coconut flakes and dried cherries and return to the oven.
Let cool and store in a sealed jar for up to 1 month.
Recipe by
Sails & Spices
at http://www.sailsandspices.com/coconut-cherry-granola/