Absolutely Delicious Miso Gravy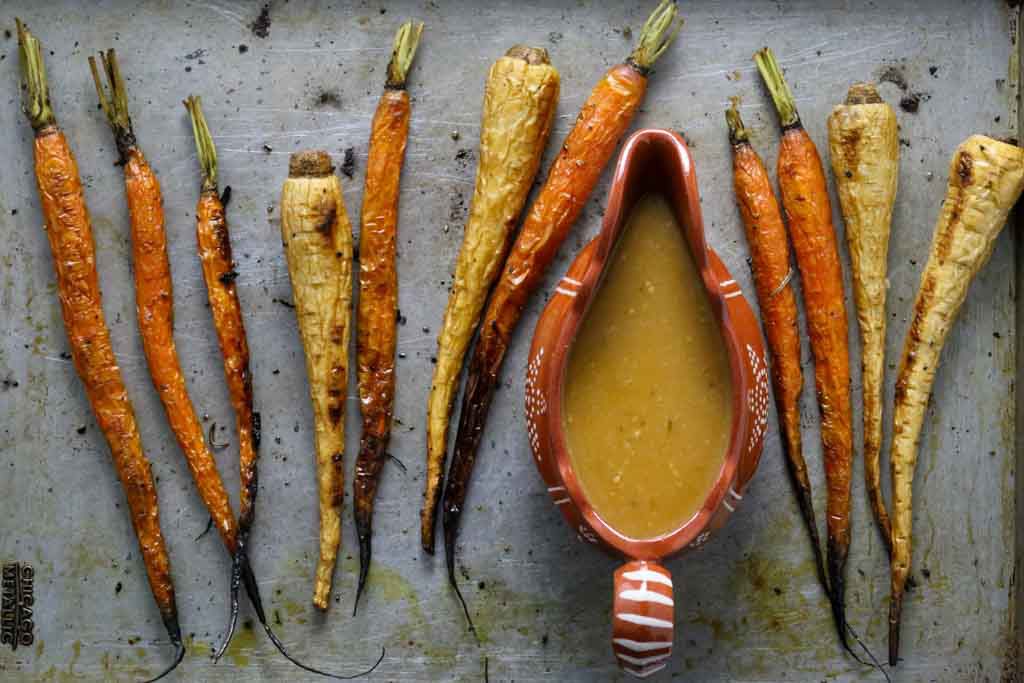 ½ large onion, diced
1.5 tsp. chopped ginger
1.5 tbsp. crushed garlic
1 tsp. rosemary
1 tsp. of thyme
¼ cup (4 tbsp) olive oil
2 tbsp. sesame oil
1 tbsp. Sriracha (or another chili paste)
2 tbsp. apple cider vinegar
2 tbsp. tamari or soy sauce
1 tbsp. agave nectar or maple syrup
3 cups low sodium vegetable broth
½ cup flour
½ cup cold water
4 tbsp. red miso paste
Dice the onion finely, and sauté with the olive oil in a medium saucepan for 5 minutes,
Add ginger, garlic, rosemary, thyme, and continue to sauté until golden
Add the sesame oil, Sriracha, apple cider vinegar, tamari or soy sauce, agave or maple syrup, and broth.
Whisk it all together, bring to a boil, and simmer on med-low for 15 minutes (or longer if you have time).
In a small bowl, mix the flour and water together until smooth, making a slurry.
Add the slurry to the gravy in a thin stream while whisking, and simmer for an additional 5-10 minutes until thickened.
Remove from the heat, and stir the miso paste into the gravy. It is important to add the miso paste at the end of cooking to preserve the nutritional values.
Blend the gravy together to make it smooth, or strain the onions and spices reserving them for another use, like adding into the apple-walnut dressing.
Taste and adjust as seasoning as necessary.
A slurry can be made with flour or cornstarch, each will give a slightly different texture.
If the gravy thins out while being reheated, add a little more slurry mixture to thicken it again.
Recipe by
Sails & Spices
at http://www.sailsandspices.com/delicious-vegan-miso-gravy/