Apple & Herb Thanksgiving Dressing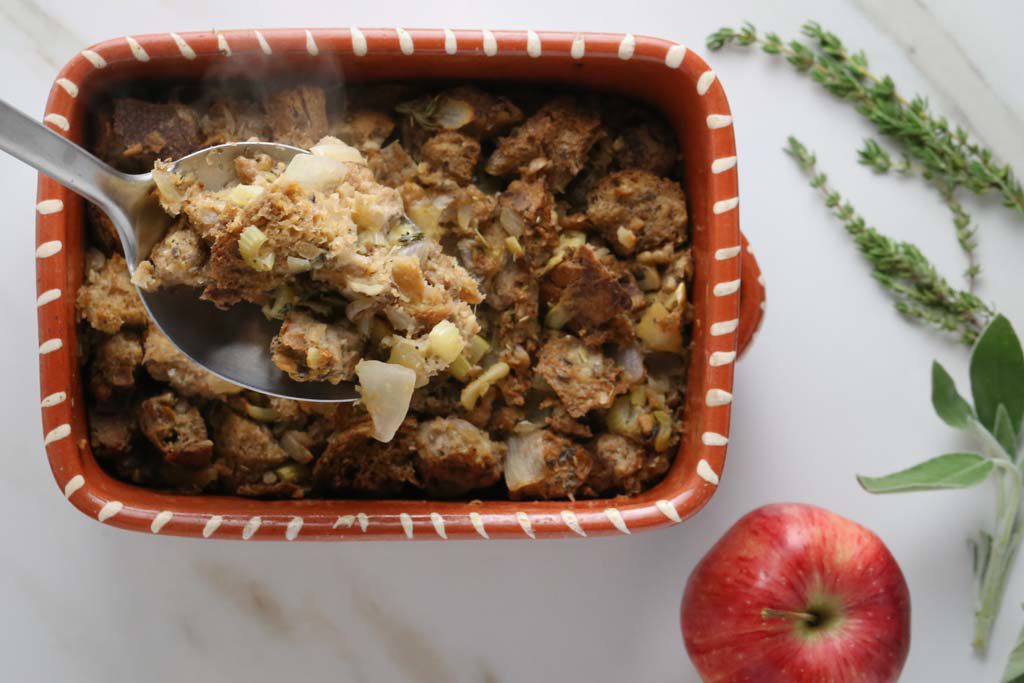 Cuisine:
American Holiday
8 cups of ½ inch whole grain bread cubes*
1.5 tbsp. olive oil
1 large onion, diced
1½ cups chopped celery
1 tbsp crushed garlic cloves
1 large apple, skin on, diced
1.5 tbsp each of fresh sage, thyme and rosemary**
½ cup walnuts, chopped
2-3 cups low sodium vegetable stock
Preheat oven to 375 F / 190 C
Toast the bread cubes on a baking tray until golden and crunchy
Heat up the olive oil in a heavy pan and sauté the onion, celery, garlic and apples until soft and fragrant.
In a large bowl, mix the toasted bread cubes, sautéed mixture, fresh chopped herbs and walnuts.
Pour over two to three cups of stock and combine well until the bread cubes have absorbed the liquid, and the stuffing forms together when pressed down.
Place into a baking dish and cover with tinfoil, baking for 25 minutes.
Uncover and bake for an additional 15 minutes or until the top is golden and crunchy.
*try a mixture of breads like walnut cranberry and whole wheat
**The fresh herbs really make this stuffing, if available the poultry herb blend is perfect to use
Recipe by
Sails & Spices
at http://www.sailsandspices.com/homemade-vegan-dressing/