Homemade Cranberry Sauce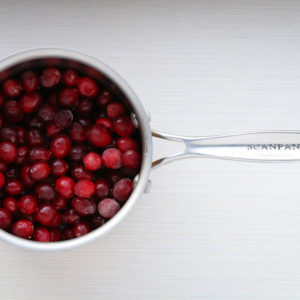 Cuisine:
American Holiday
10 oz (284g) bag of fresh or frozen cranberries
zest from 1 orange
juice from ½ orange
1 cinnamon stick
4 cloves
¼ - ⅓ cup natural sweetener like maple syrup, coconut sugar or honey
Combine the cranberries, orange zest, orange juice, cinnamon stick, cloves and sweetener in a small saucepan, and simmer for 10-15 minutes, stirring occasionally.
The sauce is ready when the cranberries have burst and start to thicken together.
Taste for sweetness and adjust as needed.
Remove the cinnamon stick to serve.