Traditional Ukrainian Potato Pierogi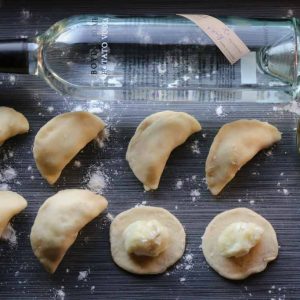 Cuisine:
Ukraine & Poland
3 cups (400g) all purpose flour, spooned into measure and leveled
1.5 tsp sea salt
1 organic egg
2 tbs olive oil
1 cup warm water
1.5 Kilo russet potatoes*
2 whole cloves of garlic, peeled
1 tsp sea salt
½ onion, diced (If you are serving the Pierogi right away, sauté 1 whole onion and reserve half for serving)
1 tbsp olive oil
1.5 cups (1 lb./454 g) dry cottage cheese**
Salt and Pepper
½ onion, diced
1 tablespoon of olive oil
Sour cream/Greek Yogurt (optional)
Chives (optional)
In a large bowl, mix flour and salt.
In a smaller bowl, beat egg. Add olive oil and warm water, and whisk together.
Pour liquid, reserving 2 tablespoons, into the flour.
Combine using a fork, and knead gently until the dough comes together, without over mixing. Add reserve liquid only if needed.
Make 3 dough balls, and place in a lightly floured bowl. Cover and rest at room temperature for 1 hour.
Peel potatoes, and boil in a large pot with garlic cloves and sea salt. Cook until soft but not water logged.
While the potatoes are boiling, sauté ½ onion with olive oil. Cover the onions with a lid if they start to dry out before cooking through.
Drain and mash the potatoes.
Add onion and cottage cheese to mashed potatoes.
Salt and pepper to taste.
On a lightly floured surface, roll out dough to 3mm (1/8") thick.
Using a 75m (3") inch ring or glass, press out circles into the dough.
Pinch and stretch each circle, thinning out the dough and increasing the size slightly.
Place 1 tablespoon of potato filling onto the center of the circle.
Fold over to create a half circle, bringing two edges up around the filling to meet at the top, and press down either side, sealing the filling in the dough.
Dough trimmings can be lightly kneaded and re-rolled once, but any more will harden the dough.
Place Pirogi on parchment or wax paper on a baking tray. Pierogi can be flash frozen on the tray and then stored in ziplock bags until ready to cook & serve.
Bring a large pot of water to boil.
Meanwhile, sauté onion in oil until soft and they start to turn golden.
Add Pierogi (fresh or frozen) and boil until they begin to float. If boiling from fresh, be sure pierogi have not stuck to the bottom of the pot.
Drain well and sauté until golden.
Serve with cooked onions, and if you like, sour cream and chives.
*Use Russet or another of your favorite mash/high-starch potato
**Instead of dry Cottage Cheese, you can use regular and drain excess liquid using a cheesecloth
Recipe by
Sails & Spices
at http://www.sailsandspices.com/pierogi-recipe/