Nuts & Bolts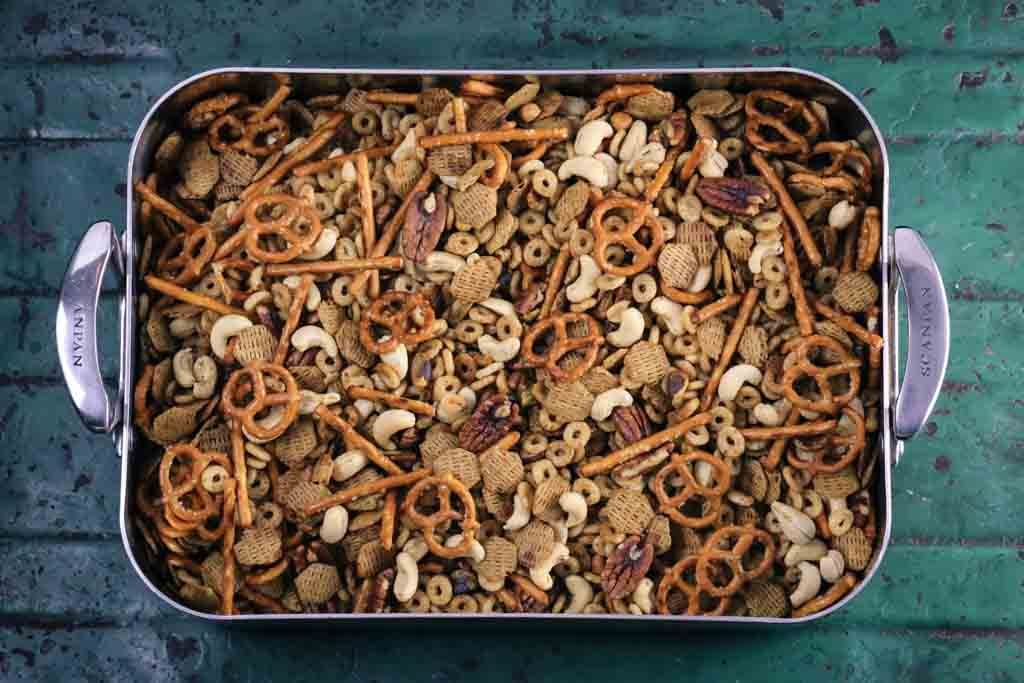 4 cups of whole wheat Cheerios or O shaped cereal
4 cups of whole wheat Chex, Shreddies or other waffle shaped cereal
4 cups of pretzels
5 tbsp coconut oil
5 tbsp olive oil
5 tbsp vegetarian Worcestershire sauce
1.5 tsp celery salt
1.5 tsp seasoning salt
1.5 tsp garlic powder
1 tsp tabasco sauce
¼ tsp cayenne powder
4 cups mixed nuts (cashews, pecans, pistachios and peanuts)
Preheat the oven to 250 F / 120 C
Combine the cereals and pretzels together in a large roasting pan or two baking pans.
Warm the coconut oil to liquid, then combine with the olive oil, Worcestershire, and seasonings in a small bowl or glass measuring cup.
Pour ⅔ of the seasoning liquid over the pan of mixed cereals and pretzels, stirring well to coat the pieces.
Pour the remaining ⅓ of the seasoning liquid over the mixed nuts, and set aside
Bake the cereal and pretzel mix for 60-75 minutes, stirring every 15 minutes. After the first 30 minutes, add the nuts, stir, and return to the oven for another 30-45 minutes.