Homemade Baked Vegetable Spring Rolls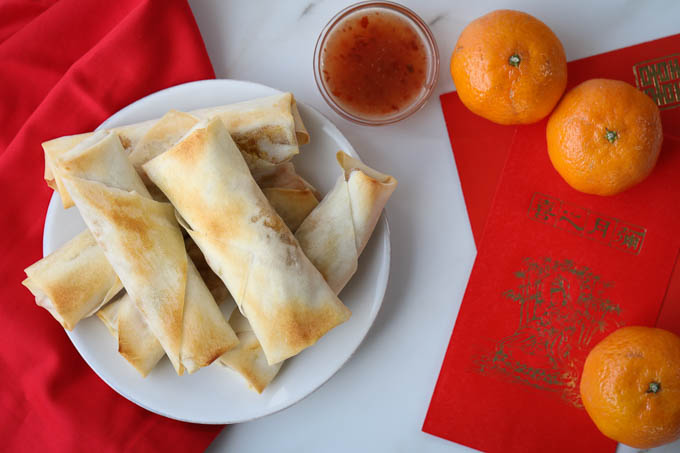 Serves:
8-10 spring rolls
1 tbsp sesame oil / olive oil
½ cup diced onions or scallions
1 c julienned carrots, 1-2 carrots
3 c shredded cabbage
(Optional) 1 cup chopped apple, bean sprouts or mushrooms
1 tbsp tamari or soy sauce
(Optional) 1 tsp Chinese 5 spice powder
1 package of spring roll or egg roll wrappers
¼ cup water
1-2 tsp sambal oelek (Malaysian or Indonesian hot sauce)
1 tbsp maple syrup or sweetener
pinch of garlic and ginger powder
1 tsp cornstarch
Preheat oven to 390 F./200 C.
Heat up a large wok or cast iron frying pan, and add sesame or olive oil.
Saute the onion for a few minutes until translucent.
Add in the carrots for another few minutes, and then the cabbage and optional apple, sprouts or mushroom.
Stir fry together until tender and fragrant.
Season with Tamari or soy sauce, and optional Chinese 5 spice powder.
Allow the filling to cool on a baking tray.
Defrost the spring roll or egg roll wrappers, and keep covered with a very damp cloth so they don't dry out.
Place the wrapper in front of you in the shape of a diamond.
Place 2 tablespoons of filling in the center of the wrapper.
Lift the corner closest to you and fold towards the middle.
Fold in the left and right corners, creating a straight tight crease along the sides
Roll the wrapper up tightly and place it seam side down. You can use a small amount of water to seal the packages if needed.
Brush lightly with olive oil and bake for 5-7 minutes on each side, until golden and crisp.
Mix all the ingredients together in a small sauce pan or microwavable bowl.
Heat on the stove top until bubbling or microwave for 1-2 minutes.
Stir again and set aside to cool. The sauce will thicken as it cools.
You should be able to find spring roll or egg roll wrappers in the refrigerator section of the grocery store, or in the freezer section of an asian grocery store.
A large wok or cast iron pan is great for making stir-frys. Cooking times may take longer in smaller pans.
Recipe by
Sails & Spices
at http://www.sailsandspices.com/vegetable-spring-rolls/