Broiled Grapefruit with Rosemary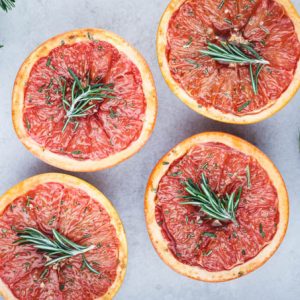 2 grapefruit, sliced in half
1 tbsp raw cane sugar or coconut sugar
¼ tsp sea salt or rock salt
½ tsp fresh rosemary leaves, chopped
4 small rosemary branches as garnish
Combine the sugar, salt, and chopped rosemary in a small bowl.
Remove a thin slice from the bottom of each grapefruit, to help make them more stable and place on a baking tray.
With a sharp pairing knife or small serrated knife, cut a circle between the grapefruit and the skin. Cut another smaller circle around the white pith in the center. Remove any seeds. Create spoon size pieces by cutting towards the center of the fruit, detaching each segment.
Evenly sprinkle the sugar mixture over each half of grapefruit.
Broil the grapefruit for 3-5 minutes, until the tops start to go golden.
Leave to cool for a minute before serving warm.
If you are feeling adventurous try adding chili pepper flakes for a spicy kick!
Recipe by
Sails & Spices
at http://www.sailsandspices.com/broiled-grapefruit/