Asparagus & Lemon Risotto with Toasted Crumbs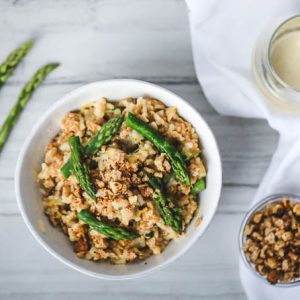 Cuisine:
Italian / Australian
¾ cup Farro or Spelt Berries
6-8 cups low sodium vegetable stock*
1 tbsp olive oil
2 leeks (or ½ onion, chopped finely)
3 cloves of garlic, crushed or chopped.**
2 large lemon peels (4" long each)
¾ cup Arborio rice
½ cup dry white wine
1 bunch asparagus (450g or 1 lb) trimmed, cut into 2-inch lengths
¼ cup sharp cheddar or vegetarian parmesan (omit to make it vegan)
1 cup baby spinach or baby kale, roughly chopped
juice from ½ lemon
1 tsp grated lemon zest
2 slices of whole-grain bread
¼ c walnuts (or almonds, hazelnuts)
½ tsp chili flakes
pinch of salt
1 tbsp olive oil
Boil the farro or spelt berries in water or stock for 20-25 minutes until al dente, drain and set aside.
Begin the Toasted Crumbs (see below).
Warm the vegetable stock in a small pot.
Slice the leeks in half lengthwise, and wash them under running water while fanning the leaves out to clean thoroughly. Slice the white portion into 1 cm pieces. (You can freeze leek greens with other vegetables to make a homemade stock).
Heat up a large pot or casserole dish on medium and add a little splash of olive oil.
Sauté the leeks (or onion) for 5 minutes until they start to look translucent.
Add the chopped garlic along with the lemon peels and arborio rice.
Stir frequently for several minutes until the rice starts to toast and become slightly translucent.
Add in the white wine, stir for a couple of minutes, and add the drained farro or spelt berries.
Add in a ladle-full of the warm stock. Stir the risotto with a wooden spoon until the stock is absorbed. Keep the risotto at a medium-light simmer, and continue adding in stock and stirring often for 35-40 minutes. This is a great time to enjoy some wine and company while taking turns to stir!
Meanwhile, lightly pan fry the asparagus and add a splash of water to the pan to give them a quick steam and a bright green color. (you can also roast the asparagus in the oven, but check often so they do not get overcooked)
Taste the grains when they start to look soft and creamy, and control the amount of stock you add near the end of the cooking time to get your preferred consistency. Grains should be soft with a little bite.
Remove the 2 lemon peels. If you can't find some of the pieces this is fine they will just add to the overall flavor.
Stir in the chopped baby spinach or kale leaves, and cover to let them wilt.
Stir in the asparagus, lemon zest, lemon juice and some (optional) shaved parmesan or sharp cheddar cheese.
Serve into bowls.
Sprinkle with toasted crumbs and serve immediately with a crisp white wine.
Bake the bread slices at 275 F/140 C for 20-30 minutes, turning half way through until very dried out and crumbly. Day old crusty bread works best for this, but you can also make it from frozen bread.
If you are using a food processor - Chop the bread into cubes and pulse into large crumbs. Add the walnuts, chili flakes and salt. Briefly pulse again to chop the nuts.
If you are using a knife - Chop the bread into large crumbs and roughly chop the walnuts.
Mix in the salt and chili flakes.
Sauté the crumbs in a pan with a little olive oil until toasted and sizzling.
Set aside (if you can)... They are delicious sprinkled on just about everything!
*The stock you choose adds a lot of flavor to the risotto so make sure you are using a great organic stock! The best are homemade, but our favorite store-bought version is the Better Than Bouillon organic vegetable stock.
**Chop your garlic at the beginning of your meal prep to trigger an enzyme reaction that maximizes garlic's powerful health benefits.
Recipe by
Sails & Spices
at http://www.sailsandspices.com/asparagus-lemon-risotto/