Parsley & Basil Pesto Sauce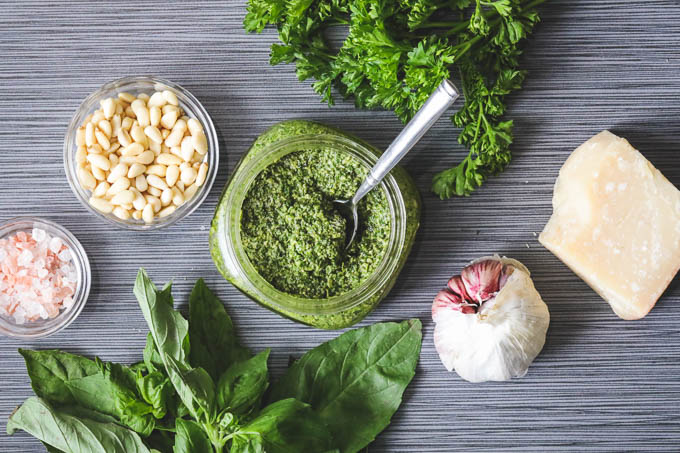 ¼ cup pine nuts
1-2 garlic cloves
¼ tsp rock salt or sea salt
1 cup fresh basil leaves
1 cup fresh parsley with stems
¼ cup olive oil
3 tbsp or more grated parmesan cheese*
In a food processor or using a hand mixer, blend pine nuts and garlic together until they are the consistency of course sand.
Wash, dry, and roughly chop the basil and parsley, and add to the food processor.
Blend until you have a coarse paste with some texture.
Stir through the olive oil into the sauce.
Add the grated parmesan and combine.
Serve with garlic bread, sandwiches, burgers, pizzas, pastas, roast veggies, in soup, or stirred through mashed potatoes.
Keeps 5 days in the fridge, sealed or covered with a light layer of olive oil, and freezes well in an ice cube tray.
*Leave out the parmesan to make this vegan, be sure to check if it is gluten free if necessary, or that it does not have rennet to make it vegetarian.
Recipe by
Sails & Spices
at http://www.sailsandspices.com/parsley-basil-pesto/